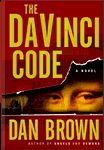 Jean will be playing a french policeman, Bezu Fache, alongside Tom Hanks as the main star in this film. It's an adaptation of the world famous novel by Dan Brown, 'The da Vinci code'. It is a murder/mystery that is set in Paris, France, and the film's director, American, Ron Howard (ex Happy days star), has even been given permission to use Le Louvre for it.
Here is an excerpt from Dan Brown's own site:
"While in Paris on business, Harvard symbologist Robert Langdon receives an urgent late-night phone call: the elderly curator of the Louvre has been murdered inside the museum. Near the body, police have found a baffling cipher. Solving the enigmatic riddle, Langdon is stunned to discover it leads to a trail of clues hidden in the works of Da Vinci…clues visible for all to see…and yet ingeniously disguised by the painter. Langdon joins forces with a gifted French cryptologist, Sophie Neveu, and learns the late curator was involved in the Priory of Sion—an actual secret society whose members included Sir Isaac Newton, Botticelli, Victor Hugo, and Da Vinci, among others. The Louvre curator has sacrificed his life to protect the Priory's most sacred trust: the location of a vastly important religious relic, hidden for centuries. In a breathless race through Paris, London, and beyond, Langdon and Neveu match wits with a faceless powerbroker who appears to work for Opus Dei—a clandestine, Vatican-sanctioned Catholic sect believed to have long plotted to seize the Priory's secret. Unless Langdon and Neveu can decipher the labyrinthine puzzle in time, the Priory's secret—and a stunning historical truth—will be lost forever.
I will be personally going to see this film just because Jean is in it. Other than that, I just think that Dan Brown has stolen his ideas for this story from the fantastic early 1980's controvercial book 'The holy blood and the holy grail' by Henry Lincoln and Michael Baigent , which is my favourite book of all time, and which I read over 20 years ago. You can get the myths about Christianity and all that was written about in 'The holy blood and the holy grail' here at: http://www.renneslechateau.com/default-uk.htm or better still, buy the book, it's great!.