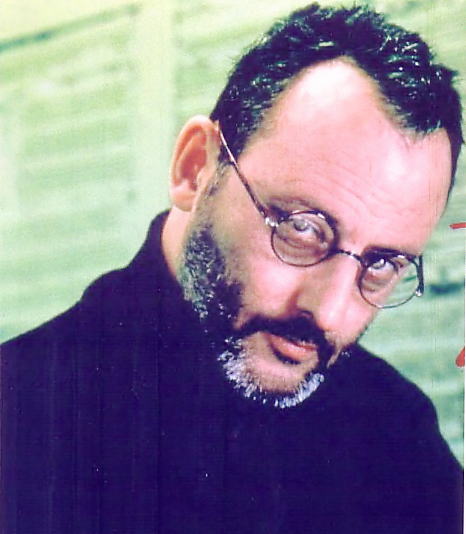 This will sound crazy to anyone reading this, but I don't care what anyone thinks of this anyway.
From the first moment I laid eyes on Jean, I *knew* him. I've never been a one for bothering to read about famous peoples lives etc, I'm never interested, but before I found anything on him, I already knew stuff about him. I knew his birthsign for some strange reason???, but because I didn't know the exact date, I'd use my step dads as it in my fantasies (don't worry,you'll be spared from those hahaha). I was 2 weeks exactly out, but I just knew that he was a Leo, a firesign like myself,so me and him would be very compatible :)
When I found out that his parents were Spanish, even though I hadn't read this fact yet, because England aren't interested in actors and actresses, unless they're from Hollywood. I knew they'd fled Spain in the Spanish, Franco, revolution, just how strange is that?.
Un lettre à Jean
Chère Jean,
If you ever get to read this, then you will probably think that I am mad, maybe you're right?, because logically, I can't believe the way that I think and feel either, but it is just so, and I cannot change it.
From the first moment I saw you, in 1996, I 'knew' you. I suppose that many fans have this feeling about the ones that they admire, I don't know?, I have never felt like this over anyone in the public eye before, I have never felt like this about anyone in my life before. But I know that you and I are meant to be together. We were together in another life, it was in a Spanish or Mexican civil war, you and I were lovers back then, it is something that I just 'know', I can't explain it, it is just there.
Do you remember the song 'Fernando' by Abba?, I was about 15 when this was in the music charts, and this song always touched me very deeply. I could never figure out why until I fist saw you, then I knew, as much as anyone can know or remember a past life anyway. I have always felt 'lost' in this world, like there is something missing, a part of me is missing, that part is you, and I know that is how you feel too. You feel restless and feel that there is a part of you missing, you need to feel truly loved. I can tell this by looking at you, no matter what film or photo I see you in, you always look sad in your eyes, even when you're laughing, the eyes are the window to the soul. You look sad because you are lost in this world just like me, you make all of your films and keep yourself busy to hide that lost and lonely yearning that you feel deep down inside of you. You and I would only ever be really happy if we were together, I would put a smile into those sad eyes of yours, I would make you happier than you've ever been in the whole of your life.
I keep hoping and dreaming that we will get together finally in this life, but I have to tell myself that it's not to be in this life and that we'll have to wait until the next one, this is the only way I can stop myself from going crazy and getting depressed. How long must we wait though?.
I love you Jean, you are my heart and soul, you touch my spirit in a way that no one else could ever do. I wish that you weren't an actor, I wish that you were a roadsweeper or something, at least that way, maybe our lives in this life would intertwine. I finally found out what to call this phenomenon yesterday, I'd always classed us as true soul mates, but from yesterday, I know that we are really 'twin flames', two of a kind, destined to be together.
All of my love to you, wherever you are..... Eddie x x x (9th June 04)

My poem to, Jean.... Written 17 November 1999
Have you ever wanted someone so much, to the Devil you would sell your soul?. Have you ever yearned for someone so badly,
your life seems like a deep dark hole?.
In my heart,mind and spirit,forever you will be with me,
but deep down inside,phisically,I ache for you,in a place you will never be.
Have you ever felt that you knew someone,in another time,another place,another life maybe?.
You feel that you know this person and if we should ever meet,you would know that I was meant for you,and you were meant for me.
Have you everloved someone so much,that you pray everyday to see?,
to have and to hold,to lay beside,that your love holds the eternal key.
Have you ever been in torment,by wanting someone so
desperately,that you cannot obtain?,
that it wouldn't matter if your life ended,because at least you would be out of your pain.
Have you ever dared want someone,that you believe in fairytales and wildest dreams,
that you truly believe that fate and destiny will play it's part,you know exactly what I mean.
Have you ever laid there in the deepest,darkest hours of the night,thinking you are going mad?,
because you know that all your wishing,dreaing and hoping,just really makes you feel sad.
Have you ever thought to yourself,that if God offered you 100 years of life,settling for second best?,
or the Devil offered you one year with the one you really love?,I know I would pass the test.
Have you ever wondered if this unobtainable love and desire will ever end?,
this crazy,mad yearning,over someone that's not even your friend.Have you evr tied yourself in knots,over a love that can't be yours?,I've cried a million tears.
You hope and dream your life away,and take it out on the ones that have loved you for years.
Have you ever felt like a teenager,with an infatuation over someone that can never be yours?,
even though I am at an age where I shpold know better,I obviously don't of course!.
Have you ever lived your life,staying with someone you don't really love anymore,like I do?,
because the one you can't have,theone you really love,would never be interested in you.
Have you ever wished the pain would go away,loving someone who doesn't even know you exist?.
I can only hope that you would understand?.
I'm sending you this with the whole of my heart, and with a loving kiss.
* * * * * * * * * * * * * * * * * * * *
This has got to be one of the most embarrassing moments of my life?!. Even though I am a grown woman,I kiss my pics of Jean Reno goodnight,not all of them,just one each evening before I go to bed.I even carry small pics of him in my keyring so that if we're staying away at night or going anywhere?,I still have him with me. I have been doing this many years now,kissing my pics,but one night I got caught by my husband!. He went mad and shouted that I was mental etc,I screamed at him and told him that I hated him!,I don't,but I felt so embarrassed at being caught in the 'act' that I wished that the ground had swallowed me up. Do I still kiss my pics goodnight?.....well,what do you think? hahaha. My hubby knows that, Jean, is the main man in my life ;)



Enter supporting content here